From one-of-a-kind attractions to the "world's greatest", this itinerary will leave your group in awe as they adventure through western Iowa.
Central/Western Iowa – 3 days
Fort Dodge, West Bend, Spencer, Okoboji, Orange City, Le Mars 
Day 1:  Fort Dodge, West Bend, Spencer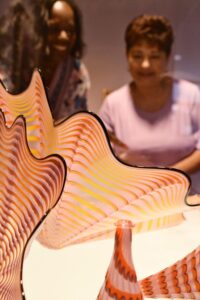 In Fort Dodge, your guests can wander through history at the Fort Museum and Vincent House, enjoy the fine and performing arts at Blanden Memorial Art Museum and Hawkeye Community Theatre, select fresh apples, Iowa foods and décor at Community Orchard, and tantalize their taste buds at Tea Thyme at Sadie's Tea Room. Shop at unique hometown stores at Kerchner Square and other downtown sites. Contact the Fort Dodge CVB for more ideas and tour information.
Often called the "Eighth Wonder of the World," the Grotto of the Redemption, created by Father Dobberstein, started in 1912. Nine grottos each portray a scene in the life of Christ. Covering a city block, it is one of the largest collections of rocks and minerals from around the world in a single location. Come witness a "Miracle in Stone".
Widely known as home of the "World's Greatest County Fair," Clay County has much to do! Your group will fall in love with all of their historic sites too.
Day 2:  Okoboji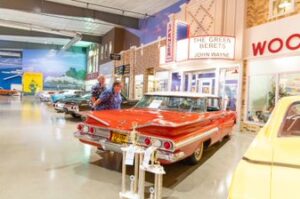 You could spend days in the Okoboji area!  Okoboji is known for its glacier-carved lakes. This beautiful chain of lakes extends from the Minnesota border southwest several miles and covers approximately 15,000 acres. Spend your time in or on the water, or take in other amazing attractions, such as a one-of-a-kind classic car museum.
While in the area, be sure to stop by Arnolds Park, located on the shores of West Lake Okoboji.  This historic amusement park features thrilling rides, free legendary concerts, free beach access, free parking, free admission, delicious fine dining, and spectacular shopping. You just pay to ride – the sights are free!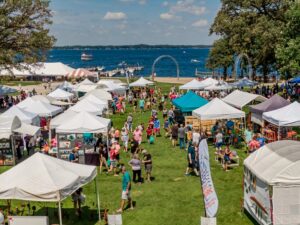 During the summer, take in a show at the Okoboji Summer Theatre. The fantastic company of talented directors, designers and actors from across the country join Stephens College students. See you under the awning!
While you are in Okoboji stay on the Iowa Great Lakes at the Arrowwood Resort and Conference Center or the Bridges Bay Resort. These hotels feature luxurious facilities that are home to countless amenities, waterparks and award-winning restaurants.
Contact the Okoboji Tourism Committee to help set up your day and evening!
Day 3:  Orange City, Le Mars
Contrary to its name, Orange City, Iowa is known for its Dutch heritage. Each year in May, Orange City welcomes thousands of visitors from near and far. Join them for a day as you recall the gentle charms of the old world and catch a glimpse of  old Dutch customs. What began in 1936 as a small celebration of Orange City's Dutch heritage has led to over 75 years of what is now known as the Tulip Festival. The annual celebration occurs every third weekend in May.
Travel next to Le Mars, the Ice Cream Capital of the World, where you can grab a cup or a dip at a famous ice cream factory. Stop at the Blue Bunny Ice Cream Parlor for a sweet treat.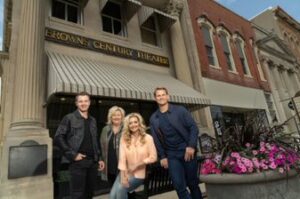 For a true treat, The Browns Century Theater is your next stop. The very talented Brown family purchased a historic building in Le Mars, Iowa in 2015. Since then, this historic landmark has become the place to take in a meal, shopping and live entertainment.  It's truly a family affair when the Browns hit the stage with their gospel music. Shelly, Michaela, Adam, and Andrew exude excitement on the stage and offer a life-changing experience to all who hear them. The Browns deliver the powerful message of the gospel through word and song that engage audiences of all ages. The Browns have been touring across the United States since the group began its full-time ministry fifteen years ago.
For more information contact Le Mars CVB. Whether you are staying awhile or just passing through, experience the "local flavors" in Le Mars… Where Life is Sweet!