Eastern Iowa, Central Iowa – Varies 5-9 days
Dubuque – Waterloo – Ames – Quad Cities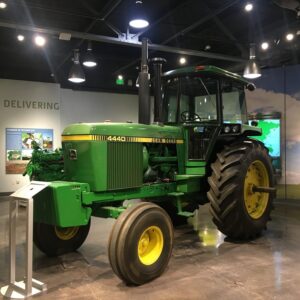 Tours are designed for agricultural professionals and make a great addition to Ag-related trips; customize the tour for your next group and add local wineries, scenic train rides, casino gaming stops and other attractions. Based on a two-day stay at the Farm Progress Show, this is a nine-day/eight-night tour. This tour can be arranged anytime between May and November.
Day 1 – Dubuque
We'll start in Iowa's oldest city, Dubuque, where you will visit the National Mississippi River Museum & Aquarium, the majestic botanical gardens, ride up the bluff on the world's steepest railroad and take a river cruise.
Day 2 – Dubuque – Waterloo
Next, you will travel to Waterloo (1.5 hours). Here, you'll tour several John Deere facilities, including the John Deere Tractor & Engine Museum, John Deere Tractor Cab Assembly Operations and John Deere Engine Works. End your evening by dining under the breathtaking Sistine Chapel ceiling at Galleria de Paco.
Day 3 – Waterloo – Ames
The following day, head to Ames (1.5 hours) and tour several research farms and Iowa State University facilities. Stay a second night in Ames and travel to the Central Iowa Expo Site for the Farm Progress Show. Spend two days exploring the grounds and enjoying your Iowa Agricultural experience.
Day 4 – Ames – Quad Cities
On your way to the Quad Cities (3 hours), stop at Kinze Manufacturing's world headquarters, manufacturing facility, offices, and training center.
In the Quad Cities, enjoy a lunch and tour at Cinnamon Ridge Farms with the Maxwell family. This is an exclusive all access tour to a world class facility owned farm.
After your tour, explore the John Deere Pavilion and Store, take a tour of the John Deere Harvester Works or Seeding Division, and marvel at the Deere & Company World Wild Headquarters. You can also include a tour of the Monsanto Company to learn how grain is moved down the Mississippi River by barge.
End your stay with a sunset dinner and dance cruise on the Mississippi River aboard the Celebration Belle.