Day 1
Coffee on the River (60 Front St, Lansing, IA 52151)
Nestled along the Mississippi River, this quaint and rustic coffee shop is the perfect place to start your morning. Founded by two sisters who dreamt of opening a shop steeped in personality and lore, Coffee on the River sits inside the historic G. Kerndt and Brothers Elevator and Warehouse complex, where many of its original features have been lovingly preserved.
Sit down to a cup of coffee and elevated breakfast classics as you watch the boats float by in the shadow of Blackhawk Bridge. Don't forget to try a slice of their signature cheesecake—delicious any time of day!
Driftless Area Education & Visitors Center (1944 Columbus Rd, Lansing IA 52151)
Allamakee County Economic Development & Tourism offers endless activities in the northeast corner of Iowa. Let your spirits soar while watching bald eagles fish along the river. Close your eyes and hear the sound of the steamboats that once echoed through the Bluffs. And imagine the towering glaciers that left their mark on the land now known as the Driftless Area.
Uncover all this history and more at the Driftless Area Education & Visitor Center, just south of Lansing. Tour the facility and learn about the area's wildlife, geography, rivers and streams, Native American culture, and life in a river town.
Old Man Restaurant & Brewing (123 A Street, McGregor, IA 52157)
Travel south to Great River Road National Scenic Byway, beautiful all year round. Visit in the spring to see the flowers invite wild critters out of their winter slumber. Or catch the fall foliage as it paints the limestone bluffs in luminous shades of red, yellow, and orange.
No matter when you visit, stop in McGregor for a taste of small-town hospitality at Old Man Restaurant & Brewery. This family-owned restaurant features mouth-watering food and a variety of local beers, including four house brews! You can't go wrong with a pizza to share with your fellow travelers and talk about the journey ahead.
Pikes Peak State Park (32264 Pikes Peak Road, McGregor, IA 52157)
Bring your bike and hiking boots! Pikes Peak State Park—considered one of Iowa's top biking destinations—boasts 11+ miles of trails for all experience levels. The park is very assessable with well-maintained wooden boardwalks and concrete walking paths leading to overlooks perched more than 500 feet above the river.
Bring your binoculars too! Watch thousands of birds migrate south in the fall or catch a glimpse of the ever-elusive cerulean warbler, an endangered bird with a distinctive song. The Clayton County Development Group welcomes you to experience the rich history, recreation, and culture in this area that has something for everyone!
Hotel Julien (200 Main Street, Dubuque, IA 52001)
No visit to Dubuque is complete without a stay in the famous Hotel Julien, an elegant boutique hotel that marries modern amenities with historic charm in the heart of the Old Main District.
Pamper yourself at the full-service Potosa Spa, work up a sweat at the fitness center, or take a swim in the heated indoor pool. When you're finished, head to Caroline's Restaurant, located just off the lobby for inspired, New American cuisine. Follow it up with a nightcap at the River Boat Lounge and Patio, featuring live entertainment on Fridays and Saturdays.
Day 2
Riverboat Twilight (Dubuque Ice Harbor, Dubuque, IA 52001)
Start your second day in historic downtown Dubuque aboard the Twilight Riverboat—located in Ice Harbor less than a mile from Hotel Julien. Travel back in time aboard this Victorian-styled vessel as you head north on one of the most beautiful stretches of the Mississippi River. The trip includes continental breakfast, two snacks, full lunch, historical narration, plus music from local favorite LA Suess on the banjo.
Group travel is all about diverse tours, live culture, modern amenities, tranquility, and most importantly—quality time with family and friends. Visit Travel Dubuque to help make your trip to Dubuque one for the books!
Flatted 5th Blues & Barbecue (300 Potter Dr, Bellevue, Iowa 52031)
After you dock from your riverboat cruise, drive 30 minutes south to the small town of Bellevue. Recognized as one of the best Mississippi riverfronts, the community offers opportunities for relaxation, shopping, and enjoying nature. Contact the Bellevue Chamber of Commerce for more information.
Stop at Flatted Fifth Blues & BBQ on the south edge of town for a one-of-a-kind dining experience. Revived in 2014, the iconic structure Potters Mill, built in 1843, was transformed into a restaurant housing live music, fine art, and southern hospitality. Inspired by the owner's love of blues, jazz, and all things food, the mill is a must-see for history buffs, music lovers, and foodies alike.
Baymont Inn and Suites Bellevue (29921 395th Avenue, Bellevue, Iowa 52031)
End your day by taking in scenic views of the Mississippi River at Baymont Inn & Suites – Bellevue. All reservations come with a complimentary breakfast. Enjoy a drink from the tiki bar or relax along the river on the outdoor patio. With spectacular views, detailed accommodations, and delightful food, this hotel has it all!
Day 3
The Sawmill Museum (2231 Grant Street, Clinton, Iowa 52732)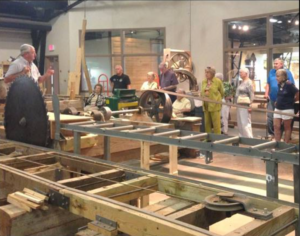 After your complimentary breakfast at Baymont Inn & Suites, head to Clinton, Iowa and visit the Sawmill Museum. At the end of the 19th century, Clinton was at the center of the lumber industry. The Sawmill Museum brings to life how the city came to control logging in the Northwoods, captain the rafting of countless acres of logs down the Mississippi River, and fill the rails of lumber that built the west.
This family-friendly facility offers hands-on educational displays, a kid-sized lumberjack camp, train rides, and year-round activities.
Downtown Davenport
Head to the Quad Cities for your last stop in Downtown Davenport. This must-see Mississippi River destination is filled with history, attractions, river cruises, local beer, wine & spirits, unique festivals, delicious food, and outdoor adventures. Go to Visit Quad Cities to learn more.
After arriving in Davenport, hop on the Mississippi River Trail. Stretching all the way to the Gulf of Mexico, this world-class bike trail follows every twist and turn of the mighty Mississippi. Ride your bike, kayak, or walk down the river to explore downtown Davenport, and discover memorable attractions just off the bike trail.
Front Street Pub and Eatery
Front Street Brewery is the oldest brew pub in the state of Iowa. Enjoy a burger on the patio paired with one of their many house brews. And take in the sights of the historic, 100-year old building with scenic views of the Mississippi, located in the "Bucktown" neighborhood of Davenport.
Isabel Bloom
Take a guided tour of Isabel Bloom studio and showroom to see skilled artisans at work. Get behind-the-scenes access to every step in the making of each iconic Isabel Bloom sculpture, handcrafted so no two are the same!
Figge Art Museum
Home to one of the Midwest's finest art collections, Figge Art Museum hosts world-class traveling exhibitions and is well known for its extensive collection of Haitian art. Its studios, auditorium, and spacious lobby are alive with art classes, lectures, and special events for visitors of all ages.
Lagomarcinos
For travelers with a sweet tooth, a stop at Lagomarcinos is non-negotiable. A staple in Davenport for over a century, this producer of all things sweet is recognized the world over for its homemade chocolate and old-fashioned ice cream.
German American Heritage Center and Museum
Immerse yourself in an interactive experience at the German American Heritage Center, a National Historic site that was originally a bustling hotel for thousands of immigrants in the 1870s. Explore engaging exhibits as you learn how German immigrants came to settle in Iowa, following their journey by sea, train, and foot to their final destination in Davenport.