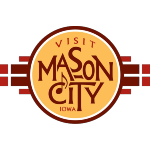 Website Visit Mason City
Visit Mason City is seeking a VISITOR SERVICES COORDINATOR to join our team. This is a great opportunity for someone who LOVES Mason City and the surrounding area and genuinely enjoys serving others.
The Visitor Services Coordinator will lead efforts to welcome guests to the Mason City Visitor Center while providing accurate information, friendly customer service, and hospitality. In this role, you will utilize your organizational and critical thinking skills to provide administrative support to our team while also contributing your creativity and community spirit to our marketing efforts. This is a full-time position with insurance benefits, paid time off, and a fun and positive work atmosphere. Salary Range: $38,000 – $52,000 annually.
If you excel at multi-tasking and enjoy working in a fast-paced environment, we'd love to hear from you.
For more information, contact Visit Mason City at cvb@VisitMasonCityIowa.com.
ABOUT VISIT MASON CITY: Since 1985, Visit Mason City has served as the community's official destination marketing organization. We are a 501(c)6 non-profit organization led by a full-time staff and Board of Directors. Our team is committed to growing tourism and making positive economic impact in Mason City and the North Iowa region through brand marketing and promotion, event and meeting recruitment, and collaborative partnerships. We are innovative, mission-oriented, visionary, purposeful, and full of community pride.
To apply, please write a 300-word article about Mason City touting the community's key assets and attractions for visitors. Submit your writing sample, cover letter, salary request, resume, and reference sheet noting at least 3 references to: Visit Mason City, ATTN: Lindsey James, 2021 4th Street SW, Mason City, Iowa, 50401 or by email to: cvb@visitmasoncityiowa.com. Inquiries by email only; no phone calls please. Application deadline is December 30, 2022.
Visit Mason City is an equal opportunity employer and candidates of all backgrounds are encouraged to apply