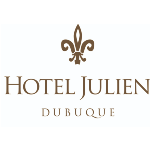 Website Hotel Julien Dubuque
Hotel Julien Dubuque is seeking someone to join the Maintenance staff. The successful candidate will be eager to learn and well organized. Duties of the position will include:
The preferred candidate should have basic electrical, carpentry, painting and plumbing skills, with an emphasis on preventative maintenance.
Duties include routine scheduled maintenance tasks such as inspections, preventative maintenance work orders, repairs to doors, windows, floor coverings, wall coverings, ceilings, furnishings, furniture, home appliances, industrial equipment and general building systems.
This position is responsible for the overall operation and condition of the building, and all the associated equipment and systems used by associates and guests of the hotel.
The maintenance technician accurately maintains daily maintenance logs and reports and accepts directions, processes and follows through on tasks with little guidance.
Candidates must have a valid driver's license.
Strong interpersonal skills and a team player attitude is a major plus!
Snow removal as needed
Respond to guest room calls as required
Preventative maintenance and general repairs/services
Candidates must be flexible enough to work a variety of shifts as needed, including weekends and holidays to meet the needs of the department.
Pay wage dependent on experience.