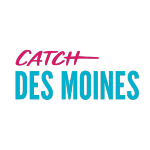 Website Catch Des Moines
Catch Des Moines has an immediate opening for an information technology manager to manage the technology functions and activities of the organization. The information technology manager will plan, establish, and manage information technology (IT) and the customer relationship management (CRM) system for the organization, serving as the liaison between the business and third-party IT provider and CRM provider.
Duties and responsibilities include but are not limited to managing all digital and technological aspects for workstations, data management, SharePoint and telecom systems including needs, installation, acquisitions, troubleshooting, administration, staff training and maintenance in coordination with IT provider and other system providers.
The IT Manager will manage vendor and service-provider relationships, and service-level agreements. This includes, but is not limited to managed IT Services Provider, phone systems, Simpleview CRM, Dashboards, and CMS.
The IT Manager will ensure compliance with GDPR, CASL, PCI and other laws and regulations governing data, payment data, and information security.
Related to the CRM system, the IT Manager will be responsible for the management and maintenance of all CRM modules in coordination with the partner fulfillment manager. They will coordinate the company-wide CRM information and reporting system, assist with final review and edits of CRM reports, and facilitate and maximize the use of Dashboards across the organization, including compiling monthly report data.
A bachelor's degree (B.A.) from four-year college or university; or two to three years related experience and/or training; or equivalent combination of education and experience is required.
An ideal candidate will have excellent communication skills, keen attention to detail and understand information technology procedures and practices.
To apply submit a cover letter and resume to:
Shannon Winters
Vice President of Finance & Human Resources
Catch Des Moines
shannon@catchdesmoines.com