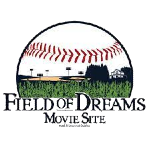 Website Field of Dreams Movie Site
The Field of Dreams Movie Site is accepting applications for the position of part-time tour guide for the 2023 season, which runs from April 1 to October 31. As a tour guide you would conduct 30-minute tours of the iconic farmhouse used in the movie and educate and entertain visitors with details regarding the making of the movie, as well as the history of the property and the plans for future expansion. Candidates should be comfortable with public speaking and public performances.
Additional duties include keeping the interior of the farmhouse clean and answering general questions visitors may have regarding the movie, the property, or the Dyersville community.
If interested, please email a resume with cover letter to
info@fodmoviesite.com
with the subject line "tour guide."