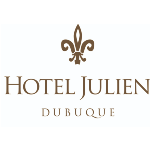 Website Hotel Julien Dubuque
Hotel Julien Dubuque is looking for a Part Time Barback.
Essential Functions:
-Keep the bar stocked with liquor, syrups, glasses, napkins and all other necessary items before and during service hours.
-Prepare garnishes, refill ice wells, change beer kegs and restock napkins and straws.
-Keeping the bar clean by wiping down surfaces, sweeping and mopping, removing soiled glassware, scrubbing coolers and storage areas, and emptying trash receptacles.
-Learning about menu items and memorizing cocktail recipes.
-Taking orders, preparing drinks, bussing tables, opening tabs, and processing payments especially during peak hours.
-Maintain records and report levels of usage to assist in the reordering process and ensuring that delivered items are stored properly.