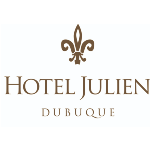 Website Hotel Julien Dubuque
Hotel Julien Dubuque is seeking a full-time Catering Coordinator.
This position will report directly to the Director of Sales. The following responsibilities (but not limited to) are as stated:
•Provide administrative support to the sales department, specifically the Catering Sales Manager and Wedding and Special Events Manager
•Oversee functions and events in the absence of the manager
•Handle small catering inquiries (telephone and in person) of clients both repeat and new
•Contribute to top quality guest services efforts – managing requests, guest amenities, etc.
•Conduct monthly inventory of marketing materials
•Handle file coordination and group status changes, countersigned contracts, etc
•Coordinate the distribution of our weekly Banquet Event Orders and Function room/front desk signage
•Prepare "Welcome packages" for all corporate group events for distribution upon arrival
•Prepare and send thank you notes to clients following meeting or conference
•Prepare and send congratulations notes to clients as directed by Sales Management Team
•Coordinate and send donation requests, as directed by the GM or DOS
•Competitive analysis every six months by calling competitive by gathering data such as banquet kits, menus, and promotional information
•Be able to conduct site visits upon request to assist the Sales Team
•Work proficiently in Word, Excel and be willing to be trained in Company software programs of Caterease and Lodgical
•Ensure that hotel policies and procedures are followed
•All other duties as required by the Director of Sales
•Must have a High School diploma and have at least 2-3 years of experience in either Front Desk, and or Restaurant hospitality
This will be a full-time position, commencing immediately.