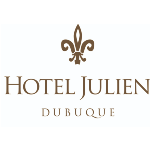 Website Hotel Julien Dubuque
Hotel Julien Dubuque is currently searching for Part-Time Banquet Bartender.
Essential Functions:
-Serve banquet bar beverages to banquet guests in a friendly, prompt and professional manner according to the type of service required by the client, i.e. cash bar or host bar, maintaining cost and liquor controls.
-Gather all necessary bar supplies, garnishes, spirits and bar utensils to properly set up banquet bar according to hotel banquet bar standards.
-At conclusion of function, ensure all equipment and supplies are returned to their proper location in a clean and orderly fashion.
-Ensure service corridor safety by transporting all equipment in the proper manner. Be responsible in the handling of all equipment and linens. Ensure that all spills and breakage are attended to immediately.
-Ensure that minors and intoxicated persons are not served alcoholic beverages. Provide opening and closing inventory of spirits.