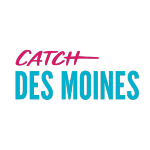 Website Catch Des Moines
Catch Des Moines has an immediate opening for a part-time accounting coordinator, working 20-25 hours per week, who would support the financial activities of the organization and would work directly with the Vice President of Finance and Human Resources on financial matters for Catch Des Moines.
Duties would include assisting in the preparation of monthly financials, general ledger entries, balancing accounts receivables, and bank and credit card reconciliations. The accounting coordinator will also be responsible for general bookkeeping activities, processing payroll, invoice preparation, and analysis of some statistical information.
An associate degree or higher in Accounting or Finance related field; or one-two years related experience and/or training; or equivalent combination of education and experience is required. An ideal candidate will have excellent communication skills and keen attention to detail. Candidate must possess computer experience with an emphasis in MS Excel and QuickBooks.
To apply submit a cover letter and resume to:
Shannon Winters
Vice President of Finance & Human Resources
Catch Des Moines
shannon@catchdesmoines.com
EOE